COASTAL WILDERNESS ADVENTURES
Campbell River Fishing Guides and Charters Vancouver Island, BC, Canada.
Freshwater, Saltwater and fly fishing trips in Campbell River and Nootka Sound BC
Guided Salmon, Steelhead & Trout Fishing trips from Campbell River BC on Vancouver Island with Campbell River Fishing Guides on private boats! Authentic nature based exclusive fishing trips!
Fly Fishing a specialty! If you long for the thrill of catching a wild Pacific Salmon or landing an elusive British Columbia Steelhead on Vancouver Island our guides will get you there! We want to make your Campbell River salmon fishing adventure a fishing trip that you will remember forever !
Pristine Rivers & Wild Remote Ocean Passages. If your dreams include floating down pristine rivers or winding through the wild and remote natural coastal passages and inlets of West Coast BC, surrounded by marine life and majestic coastal forests – then you have come to the right place! You will find the spectacular scenery simply breathtaking! You will find the spectacular and majestic scenery of our area simply breathtaking ! Immerse yourself in authentic local culture of our small community.
Coastal Wilderness Adventures is based in Campbell River British Columbia on the north central east coast of Vancouver Island, British Columbia, Canada. Our Campbell River Fishing Guides will make your Campbell River Salmon Fishing Charter an experience you will never ever forget! Contact us for your Vancouver Island Fishing Trip.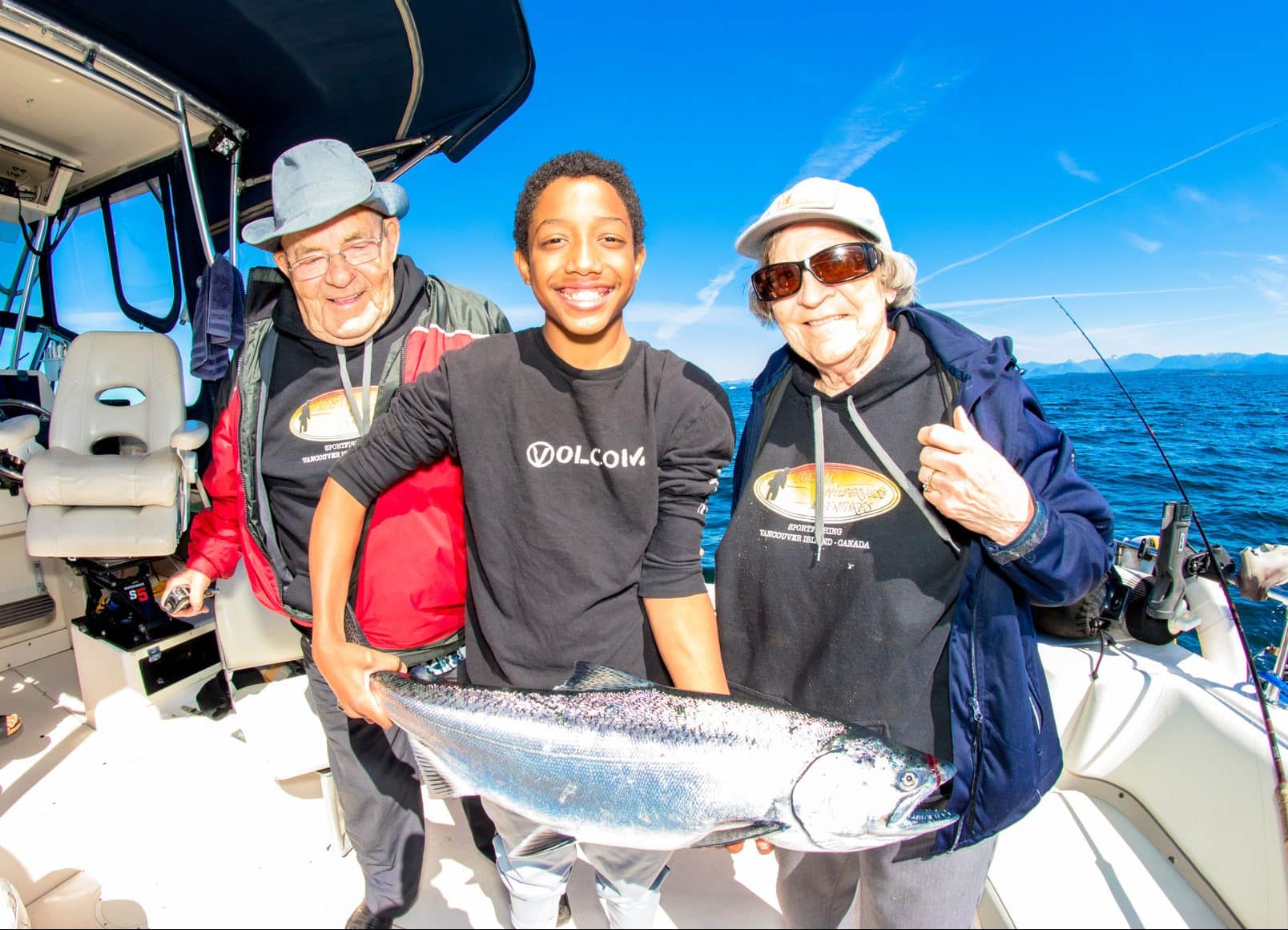 THIS IS A FISHERMAN'S PARADISE
The city of Campbell River BC, known worldwide as the "Salmon Capital of the World", is situated in a prime location as all 5 species of Pacific Salmon pass through the waters between Campbell River and the BC mainland, returning to the rivers of their birth. Our sensational location is also midway to the most productive fishing waters on Vancouver Island, including Gold River BC, Nootka Sound BC & Stuart Island BC. You can fish for Pacific Salmon, Steelhead & Trout in the hottest spots, at the best times and with some of the best professional Campbell River fishing guides and Nootka Sound fishing guides.
Both the Campbell River Salmon Fishing Charters and the Nootka Sound Salmon Fishing Charters are comfortable and efficient in our 25 to 28 foot covered and heated fishing boats, equipped with marine heads and state of the art electronics. These private fishing charter boats are sure to give you the secluded and exclusive adventure you're after. While river and lake freshwater fishing we are professionally equipped with a 13 foot self-baling river raft with all the safety features.
We have the Gear and the Expertise!
"At Coastal Wilderness Adventures we use a variety of fishing methods and styles for the different species of fish. We have the gear and expertise to accommodate fly fishing, drift fishing, downrigger fishing and much more! Tell us what you're after, and our Campbell River fishing guides will outfit your charters with state of the art equipment of your choice. We pride ourselves in fishing sustainability and working with various organizations to help with science to ensure the success of Wild Salmon for the future"
"The serenity and beauty of Vancouver Island and the West Coast BC must be seen to be appreciated. Our wilderness scenery is, bar none, some of the best in the world. Breathtaking coastal mountain views, abundant wildlife and crystal clear waters are everyday sights in our spectacular part of the world. Killer Whales, Black Bears, Bald Eagles, Sea Lions, Sea Otters, marine birds, Porpoises and so much more are part of our rich and abundant marine envIronment."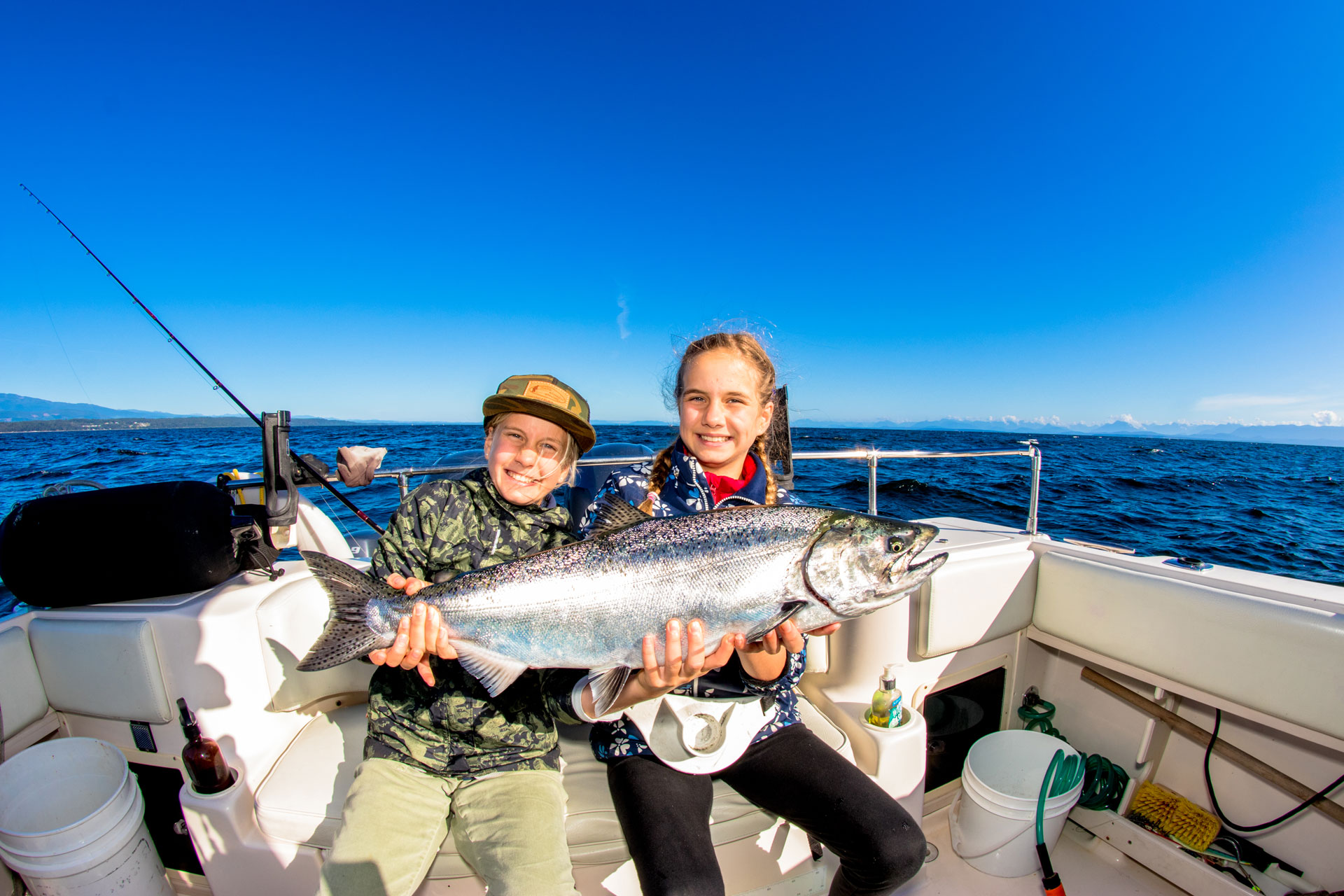 OUR CAMPBELL RIVER SALMON FISHING GUIDES WILL ACCOMMODATE YOU !